A six-hour standoff with a wanted Vanderburgh County man came to a peaceful resolve Thursday evening.
At 4:45 PM Thursday, an investigation by the United States Marshalls Task Force led them to 401 Clay Street in Jasper, where they attempted to serve a felony warrant on 33 year old Armando Gutierrez of Evansville.
Gutierrez was wanted through Vanderburgh County for Domestic Battery with a Deadly Weapon.
As officers arrived at the residence, six different people were located; however, Gutierrez had barricaded himself in a crawl space in the basement.
Officers also learned Gutierrez was armed with a handgun.
Members of the Marshalls Task Force called for the Indiana State Police for assistance. Members of the ISP, the Jasper Police Department, and the Dubois County Sheriff's Department arrived and set up a security perimeter around the residence until members of the State Police SWAT team and Hostage Crisis Negotiations team arrived.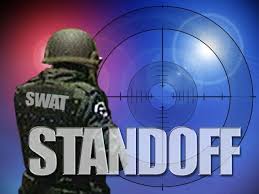 Upon their arrival, negotiators began trying to speak with Gutierrez in order to reach a peaceful resolution.
While speaking with Gutierrez, Gutierrez fired a round from his firearm. Officers do not believe he was firing at officers. Knowing that Gutierrez was in fact armed, and had discharged his weapon, SWAT team members continued to attempt a peaceful resolution to the situation.
At 10:50 PM, SWAT team members were able to use less-lethal weapons to deescalate the situation and safely take Gutierrez into custody. He was transported to Memorial Hospital for evaluation.
Investigators will remain at the scene to collect additional evidence.
Arrested and Charges:
Armando N Gutierrez, 33
Evansville, IN
– Warrant, Vanderburgh County
* Additional Charges Pending