A Hardinsburg woman was killed this morning in a fatal accident on US 150 near Fredericksburg.
Pronounced dead at the scene was Alisha Riggs, 27, Hardinsburg.
According to the Indiana State Police, this morning at approximately 7:00 am, troopers from the Indiana State Police Post at Sellersburg and deputies from the Washington County Sheriff's Department responded to a serious crash on U.S. Highway #150 just west of North Road near Fredericksburg.
The preliminary investigation revealed a 2005 Mercury Sable being driven by Jeremy Hall, 33, from French Lick, IN, was travelling west bound when he passed a vehicle.
When he pulled into the east bound lanes to pass, he struck a 1999 Ford passenger car head-on, that was being driven by Riggs, 27, from Hardinsburg, IN.
Riggs was pronounced dead at the scene and Jeremy Hall was transported by air ambulance to the University Hospital in Louisville, KY with serious injuries.
It is unknown at this time if seat belts were in use by the drivers.
A crash reconstruction team from the Indiana State Police Post at Sellersburg is reconstructing the crash scene.
This investigation is continuing with the findings in the crash being forwarded to the Washington County Prosecutor's Office for determination of possible criminal charges.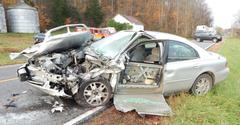 Assisting Agencies were the Washington County EMS, Washington County Coroner's Office and the Posey Township Volunteer Fire Department.